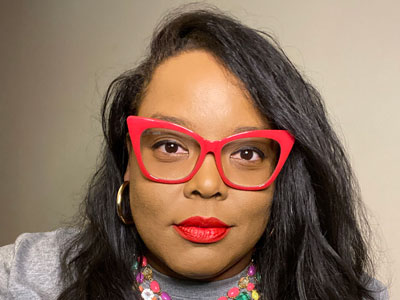 Resident Faculty, Maximino Martinez Commons
Professor Stephanie E. Jones-Rogers is an Associate Professor in the History Department. She specializes in African-American history, the history of American slavery, and women's and gender history and is affiliated with African American Studies, American Studies, the Center for the Study of Law & Society, and the Center for Race & Gender. She is the author of the award-winning book They Were Her Property: White Women as Slave Owners in the American South and the a recipient of the 2023 Dan David Prize for her research on women and slavery.
More about Professor Jones-Rogers:
A first-gen faculty member, Professor Jones-Rogers was an older, working student-parent and a transfer student. She is the first person in her mother's family to attend and graduate from a four-year institution and the first person in her immediate family to earn a doctoral degree. Prior to becoming a professor Dr. Jones-Rogers was employed in a range of jobs which included telemarketing, retail customer service, patient care in her local hospital, and waitressing in a small-scale local restaurant. She even worked as a bank teller for a time. Her ultimate aim was helping to support her family while continuing her undergraduate education.
As a young African-American woman who was a working class, non-traditional student, a first-gen doctoral degree holder, and first-gen faculty member she hopes build relationships with students who deal with some or all of these circumstances, and who might be struggling with the experience of living away from home, in many cases for the first time, and adjusting to the responsibilities that shape young people's days at the undergraduate level, which can be so overwhelming.
Her experiences as a non-traditional student led her to understand that experiences outside of class can impact students' in-class experiences profoundly. She hopes to work with students in ways that acknowledge their lives outside of class and allow them to thrive during their time at Berkeley. She hopes to be attentive to when things might not be quite right with them, a sensitivity which she hopes will make her better able to help them achieve success during their time at Berkeley.
In her free time, she loves to watch forensic science shows, British crime shows, and read historical fiction. She also has multiple tattoos and loves this form of body art.