On behalf of all of the staff in Residential Life, welcome home! We are excited that you will be part of our residential community for this upcoming academic year.
Our mission in Residential Life is to facilitate your transitions into the academic and social communities of the University of California, Berkeley, help you discover personal strategies  focusing on your personal well-being and learning to live in a diverse community with your fellow Golden Bears.
Our Residential Life professional staff and student staff will connect you to campus resources, offer community programs, and will help you address any questions you encounter during your time living with us. You can also check in with your residential faculty who also live in the residence halls and learn more about the academic environment and the best practices every scholar needs to succeed.
Looking for opportunities to co-create your college experience? Get involved with leadership development opportunities that directly impact your residential communities. Join our nationally recognized Peer Review Board, become an Academic Tutor or be part of the 2023 National Award Winning Residence Hall Assembly. Residential Life also features multiple employment opportunities to help earn some dollars to assist you in working where you live! There is something for everyone.
Whatever paths you choose, lean in and maximize your residential experience. We are excited to help guide you through your residential experience.
Best of luck and Go BEARS!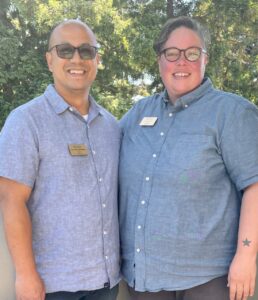 Left to right: Glenn DeGuzman, Ed.D. (he/him), Associate Dean of Students & Director of Residential Life; and Amber Ulmer, M.S. (she/they) Associate Director of Residential Life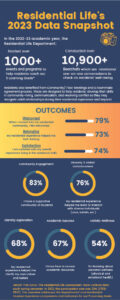 For questions related to Residential Life Assessment, contact Assistant Director, Dr. Jacquelynn Thomas at jaqui@berkeley.edu.
---
Please note this website may link to other websites and technology applications. Our office does not monitor those websites or applications and has no technical or content control. Please contact the owners of those websites or applications for assistance.
To report spelling errors, outdated information, and/or incorrect or broken links on this website, please contact webmaster.