Thank you for visiting the professional staff recruitment site for Residential Life at the University of California, Berkeley. We offer this site to answer common questions about our professional staff opportunities. We are excited that you are interested in learning more about us.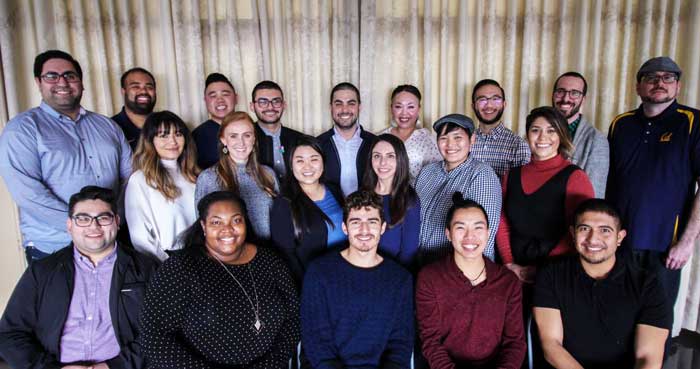 ResLife is charged with the development and implementation of transitional programs for students and their families at the University of California, Berkeley. We also create safe residential communities that facilitate personal development and intellectual growth for the 8000+ single students and approximately 3000 family housing residents. Our mission is to facilitate the transition of students into the academic and social communities of the University of California, Berkeley and to promote student growth, leadership, and social justice in alignment with the mission of the Division of Student Affairs and the University.
We have been doing intentional work to assure that the residential experience is inclusive and supportive for all of our residents.  This work includes an intentionally crafted residential student experience, an integrated professional and student staffing model that is allowing us to have smaller student to student staff ratios, and extended professional staff contracts that allow us to build stronger communities for our staff and students.
As we prepare for the upcoming academic year, we are preparing to increase our on-campus housing capacity. We continue to explore opportunities to create residential communities based around interpersonal contact points between residents and their staff.
We hope this brief overview of our work here in ResLife illustrates that we are on the move and are building an ever stronger department to support our residents and our team.  We look forward to engaging you further about your interest in joining us here at UC Berkeley!
Resident Director Opportunities
Our Resident Director team is comprised of talented and driven Master's level professionals that collaboratively shape the residential experience. To oversee the community development, emergency response, and programmatic efforts of our residence halls, RDs partner with 5 Assistant Directors, 4 Coordinators, 2 Senior Resident Directors and over 150 live-in Student Hall Staff. To learn more about the RD role, please read the RD job description PDF.
For more information about the RD experience at UC Berkeley, please contact resrecruitment@berkeley.edu
add accordion