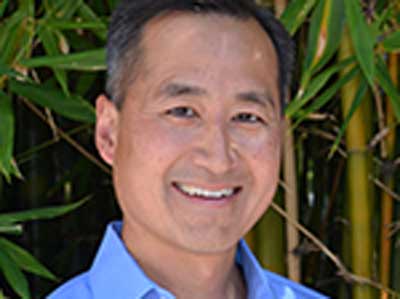 Resident Faculty, Clark Kerr Campus
rrhew@berkeley.edu | 510.643.6984
"The Resident Faculty program provides a "small college" community within the larger university setting. My wife and I have dedicated our professional lives to Cal and its students, and becoming a part of the resident faculty program is a logical next step as part of that commitment. Even as a professor, I am ever aware that much of the learning in college occurs outside the classroom, in the spaces where the students live, in the times when they are not studying. As resident faculty members, we can play an unobtrusive supporting role for students who are making one of the critical transitions of their lives. I look forward to introducing students to research and learning opportunities on campus, to the regional parks of the East Bay, to life management skills, and to science education resources."
Professor Rhew is an Associate Professor at UC Berkeley in the Department of Geography as well as the Department of Environmental Science, Policy & Management, and he is also a core member of the Berkeley Atmospheric Sciences Center and affiliate of the Lawrence Berkeley National Laboratory. His field of research is atmospheric science and trace gas biogeochemistry. Trace gases are compounds that regulate the Earth's greenhouse effect, the balance of stratospheric ozone, and most of the chemical reactions in the atmosphere. Rhew's trace gas biogeochemistry lab group measures the biosphere-atmosphere exchange of environmentally important trace gases and discovers the physical and biological controls on those fluxes. They work in a wide range of natural and human-dominated ecosystems, including Arctic tundra, temperate grasslands, salt-affected lands, arid and semi-arid shrublands, boreal forest, temperate forest, and tropical ecosystems. Their measurements identify globally significant sources/sinks of important compounds; quantify the atmospheric lifetimes of these compounds (how long these compounds persist in the atmosphere), and elucidate key biogeochemical processes that occur in nature. Currently the group focuses on halogen, sulfur, and carbon containing compounds that catalyze ozone destruction; influence the radiative energy balance of the planet; and/or act as proxies or byproducts of important ecosystem processes. The research is very interdisciplinary, involving the tools of analytical and atmospheric chemistry, soil geochemistry and microbiology, plant biology and genetics, ecosystem ecology and physical geography. Rhew teaches several undergraduate and graduate courses in environmental and atmospheric science, including Introduction to Environmental Science, Global Change Biogeochemistry, Top Ten Global Environmental Problems, Communicating Climate Science, Communicating Ocean Science, Earth System Science, and GC-Maker: Build Your Own Environmental Sensor.
Professor Rhew lives in Clark Kerr Campus with his wife, Dr. Tamara Mau, and their two elementary age sons. Dr. Mau works in the Integrative Biology department as the laboratory instruction supervisor, and she has a Ph.D. in marine biology. Together, this Cal couple can discuss with students about a range of scientific research and classes offered on campus.
Ask me about: Atmospheric science, laboratory research internships, time management, habitat restoration, dragon-boating, car camping, oceans and oceanography, Maker Space electronics, the Oakland A's, and visiting our regional, state and national parks.